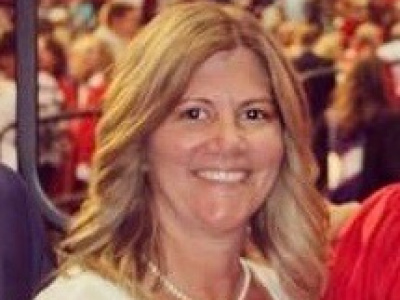 Jamye Casperson has taken the lead directorial position for the Commodores as of Dec 2019.
She has her B.A. in Music Education from Luther College and her Masters in Teaching and Learning from St. Mary's University. 
She currently teaches choir, piano and guitar at Lakeville North High School in Lakeville, MN.    
This is her 29th year of teaching and has taught all levels K-12 vocal and general music in her career of shaping young minds to the importance of music. 
She is also an accomplished pianist and has taught private piano lessons.
Jamye has put together some excellent girls' quartets during her time at Lakeville North.  She has also directed (both staging and musical direction) musicals at Lakeville North and Lakevillle South.  
Her Now and Then Singers have also appeared on many Commodores' shows. She was the accompanist for combined Christmas shows between the Commodores and Twin City Show Chorus.  
Jamye has also been very active in Minnesota Choral Directors Association, and provided administrative and musical leadership in that organization as the Middle School Girls Honor Choir Chair.
We are VERY fortunate to have Jamye out in front as she continues to teach us new and exciting things about our fun craft of making music!