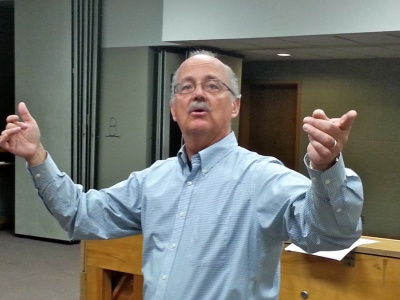 PAUL WIGLEY has recently turned over the reigns of Primary director of the Commodores after a long a stellar tenure directing out front.
Paul Continues to be an active member of the Commodores both on and off the risers. He continues to offer his musical guidance to the Chorus.
Paul holds a B.S. in Music Education from the University of Minnesota, and a Masters of Music, music education with choral emphasis from the University of Northern Iowa. His experience is too lengthy to list here. He has extensive experience from Bach to Barbershop. Paul is the former choral director at Lakeville High School but has had 34 years of shaping young minds to the importance of music. Many of his former students have gone off to be professional musicians in their own right. He has served on the staff at the BHS Directors College. He is a BHS Music Category Judge and former Music Category Specialist for the BHS.
We are VERY fortunate to have Paul as a member, and he continues to teach us new and exciting things about our fun craft of making music!